By Julia 9 Comments
Sauteed green beans and beets with bacon, pecans, goat cheese, and balsamic reduction. Chitty chitty bang bang!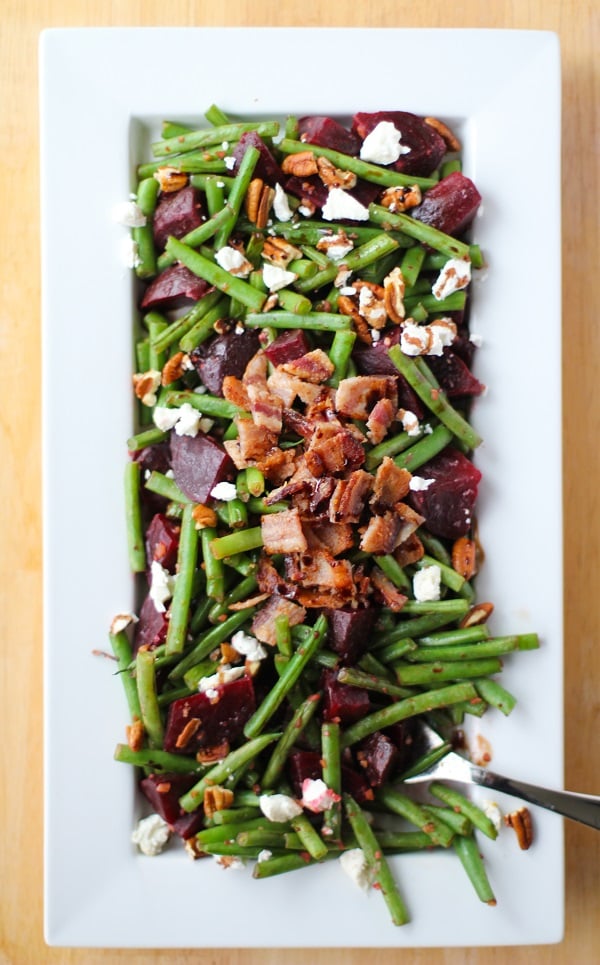 I've been tapping the side dishes like Fred Astaire. Except my version of "tapping" is more of a swift scooping…of foods…into my mouth. If I could give you a synopsis of my eating habits lately, it would go a little sumzing like-uh-zis: carbs, carbs, fatty meat, carbs, maple syrup, wine, carbs, super fatty meat, bourbon, wine, chocolate, carbs, carbs, kale, carbs, wine, carbs, beets. That just about summarizes it. And I gotta tell you: my.thighs.are.loving.it.
Side dishes have become such a near and dear part of my life that I shudder to think of what will happen once the holidays are over and it will no longer be the norm to have a big meaty entree with 17 sides. You mean I have to revert back to one meaty entree and two sides? Shutthefrontdoor.
Personal question: Are you a sectioner or a shmoosher? Like, when you dish up your plate o' holiday feast, do you section your sides so that they don't touch one another or do you shmoosh them up in one big mosaic of color and texture? Me? I'm the kind that would lead you to believe I'm a shmoosher when in reality, I'd prefer it if all my foods had their own separate plates. It's just.that.bad.
Guess what?
T minus ONE DAY until Thanksgiving!
I've been up to my eyeballs in side dishes. I know, I know…#firstworldproblems
Green beans are awesome even without condensed cream of mushroom soup.
Balsamic reduction makes food real.
Bacon.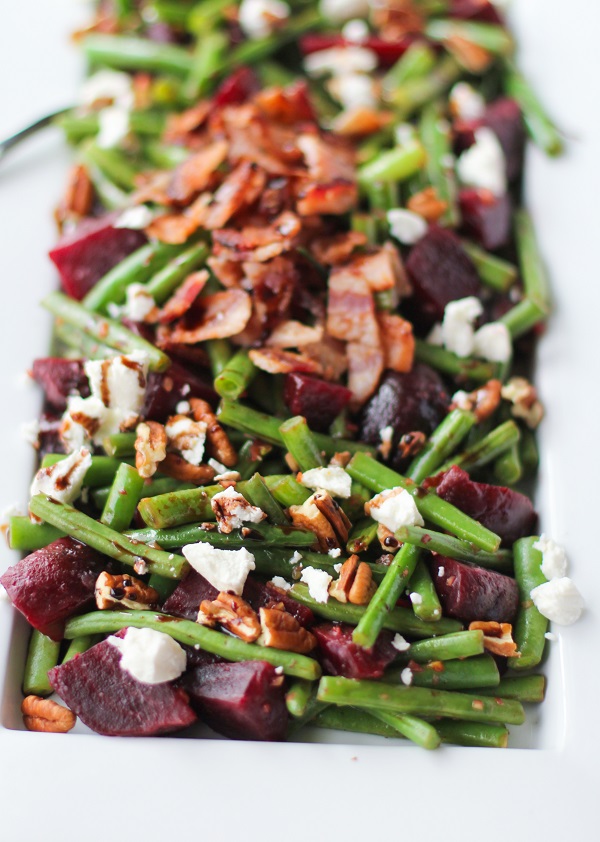 …
By Julia 19 Comments
Boozed up mashed sweet potatoes. Giggity giggity. The question isn't where would you put your booze…it's…